Drawbridge is proud to announce its ranking as a top cyber-security provider in HFM's most recent Tech Vendor Rankings and Ratings Report
According to the report, over 80% of hedge fund managers who participated in the survey utilize third-party cybersecurity systems. Among the hedge fund managers surveyed, Drawbridge ranked as the #2 biggest provider of cybersecurity systems and services.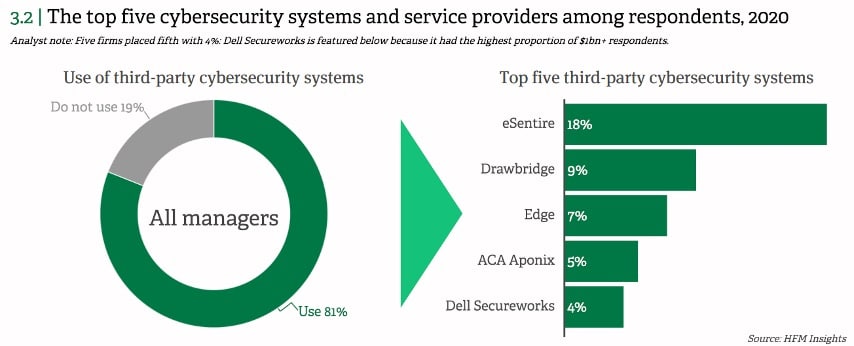 When asked how satisfied managers are with their cyber vendors, Drawbridge beat other long-lasting providers in two categories. In the category 'Suitability to the needs of the customer' and 'Ability to perform as sold' Drawbridge received the highest score of 5, higher than any other provider. Drawbridge also received praise for its customer support, with a ranking of 5. In the categories 'Value for money' and 'Inter-connectivity' Drawbridge achieved a score of 4.
After calculating the median score for the five categories, Drawbridge was the clear winner, with the highest ranking when it came to overall satisfaction with its products and performance, receiving a ranking of 4.6, compared to Esentire (4.4), ACA Aponix (4) and Edge (3.9).

The report findings are based on the survey responses of hedge fund professionals, primarily COOs
and CTOs who have oversight of their firm's technological infrastructure, as well as proprietary research, data from the HFM database and data from public sources. The survey was conducted across January, February and March 2020. A total of 76 different hedge fund management firms participated in the survey, with the majority of these based in North America and Europe.
To access and read the report, please visit the HFM website. You can find out more about our industry recognized solutions DrawbridgeConnect™ here, and DrawbridgeConnect-R™ –here. If you would like to connect with Drawbridge to discuss your cybersecurity needs, contact our team of experts.