Bridging the Gap Between Cybersecurity, Technology and Compliance
Our software connects business, compliance and IT so you can centralize and easily manage your cybersecurity programs.
Centrally Manage All Aspects of Your Cybersecurity Program
Manage all cybersecurity requirements from a single technology platform with a simple user interface to see your real-time risk profile.
DrawbridgeConnect™ is a powerful platform that allows firms to maintain compliance with regulatory requirements and drive due diligence while in a fully centralized application.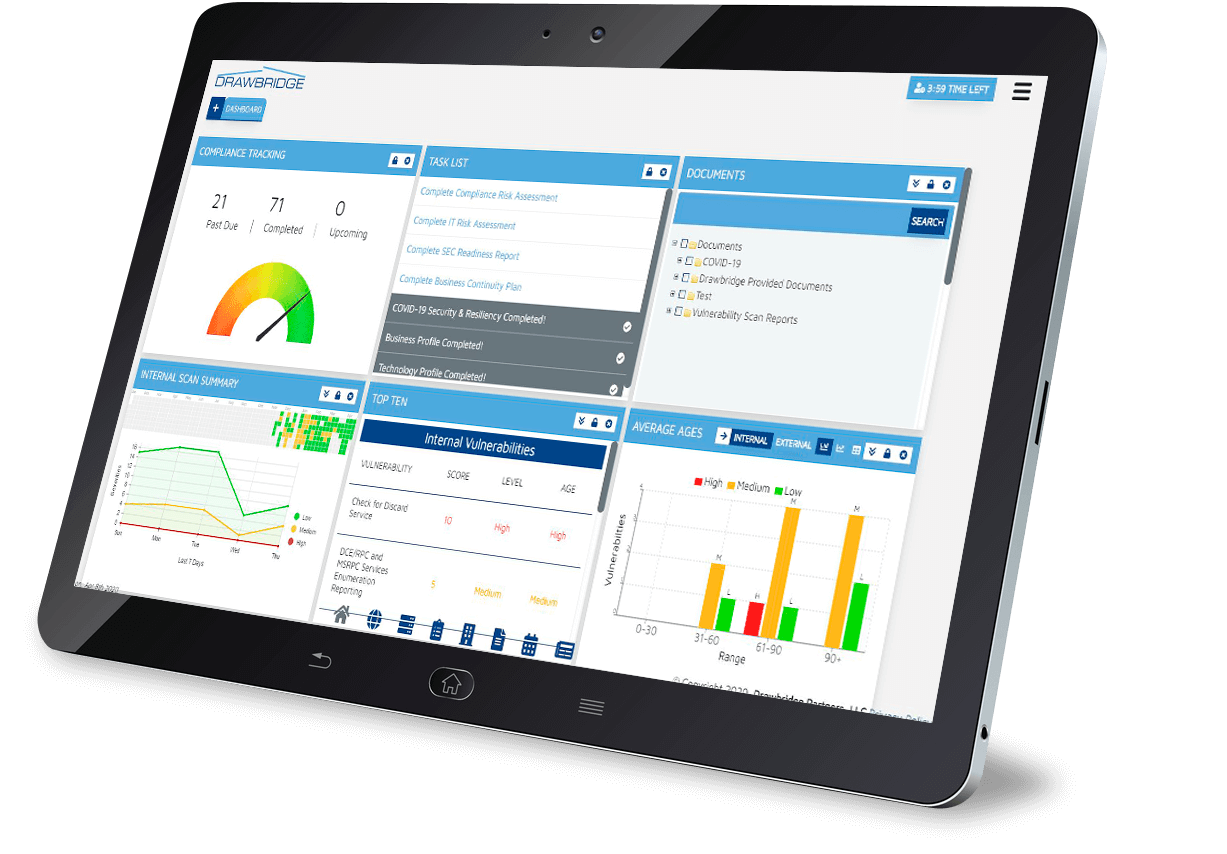 Identify the cybersecurity risks within your organization. Review all aspects of your IT infrastructure and controls against regulatory requirements, due diligence and industry best practices. Gain insight into your current cybersecurity posture and your suggested roadmap for program improvement.
Conduct ongoing vulnerability management and testing of your internal and external network. Locate weaknesses, risks and holes in your technology setup to help you proactively get in front of breaches, ransomware and malware attacks.
Protect sensitive data outside your organization with end-to-end vendor due diligence management that allows you to gain insight into your vendors' cybersecurity preparedness and take the necessary steps to address potential threats.
Manage all aspects of your security program, including written information security policies, incident response plans, business continuity plans and any other security policies your organization requires.
Employees can be the weakest link in cybersecurity. DrawbridgeConnect™ helps you manage your cybersecurity training and awareness programs.
Conduct a data mapping exercise to understand where confidential data lives on your network. Gather and manage information to create privacy documentation, meet your regulatory requirements and gain insight into the current state of your data privacy program and your suggested roadmap to improve it.
Business Continuity & Physical Security
Our platform addresses all your business continuity and physical security needs. Conduct a business impact analysis to assess and enhance your business continuity and physical security programs.
Read Our Insights Regarding DrawbridgeConnect™