Secure Your Data Outside of Your Organization
Third-party relationships have become a growing threat, but many firms lack an adequate Vendor Due Diligence program to manage and monitor their vendors' cybersecurity programs in real-time and identify data risks that lie outside their organization. With Drawbridge, you can ensure your third-party vendor cybersecurity practices meet both your standards and industry requirements.
Even with the most robust security program in place, your firm's data is only as secure as the weakest vendor with access to your data.
The vendors outside your walls also have access to your data, therefore it is critical to ensure their cybersecurity practices meet your and industry standards. Our expert team will assist your firm with this process.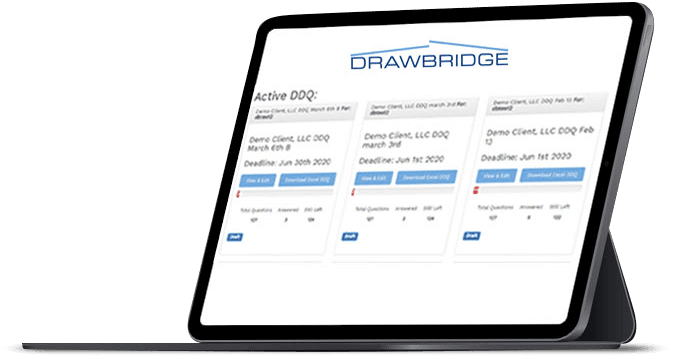 Due Diligence is Expected
U.S. federal regulators are more aware of cybersecurity risks than ever and various agencies have issued cybersecurity guidelines and standards.
With data security now a hot button topic for regulators and investors, ensuring oversight of all third parties who have access to your sensitive data is no longer simply best practice—it's required.
Manage the Vendor Due Diligence Process from End-to-End
Gain insight into the current state of your vendors' cybersecurity programs and where you may have a data risk that lies outside of your organization.
Read Our Insights Regarding Vendor Due Diligence