Assess, Report, Remediate, Repeat
Time is of the essence in cybersecurity. The average time between a vulnerability being announced and attacks launched to exploit that vulnerability is less than 8 days. Point in time scans and penetration tests are ineffective when it comes to protecting against new vulnerabilities. Our platform protects your organization by continuously scanning your network to ensure vulnerabilities are found and remediated.
Vulnerability Management As A Service (VMAAS)
Vulnerability Management is an ongoing, comprehensive program that will analyze the vulnerabilities in your network in a continuous manner rather than a point in time vulnerability assessment.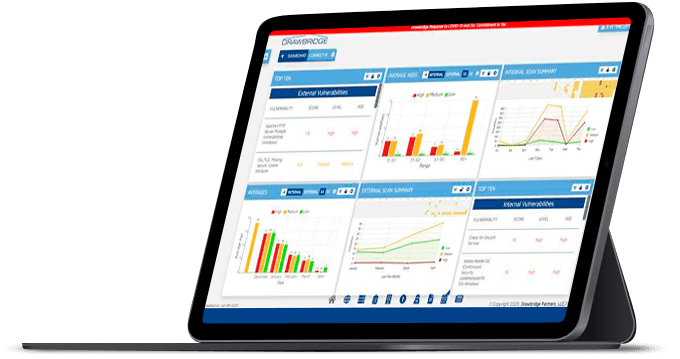 Ongoing access to DrawbridgeConnect™ Cybersecurity Program and Vulnerability Management Application
Drawbridge provides ongoing vulnerability scanning on your network and aggregates data highlighting the following:
We also provide vulnerability scanning of your internal network to provide more detailed data and reporting at the workstation and server level.
Our reporting highlights all vulnerabilities on the external and internal networks along with remediation guidance. And we work directly with your IT department or Managed Service Provider on any items necessary for remediation and validation.
Read Our Insights Regarding DrawbridgeConnect-R™